Be one of the first to read…
Activating Your Loveseed:
Revealing the Blueprint for a Better World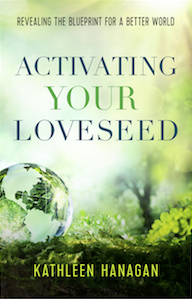 Activating Your Loveseed: Revealing the Blueprint for a Better World, is a guidebook through an inner journey in which the author—a psychotherapist—is both companion and guide.
Combining dramatic real life experiences with compelling mythic tales and a profound exploration of the need for greater depth, this book both inspires and instructs us to awaken to our own multidimensional nature, and to take on the task of personal transformation as a way to contribute to the greater good.
Storytelling, science and spirituality combine to weave the threads of ancient wisdom with the emergent intelligence of our times, and the synthesis helps readers integrate and expand their awareness beyond the subconscious limitations of a culture gone astray. We are shown how to remain awake at every stage of the journey, so that we can do what we came to earth to do: to dream big dreams and learn the lessons that show us how to make them come true.
You can use this book:
To move out of the "trance" where you are identified with your pain.

To clear away the deadwood of old habits and reactive responses that no longer serve you, and create healthy and energizing practices that allow your light to shine.

To surrender the effects of the past for good and move into the life you were meant to live.

To connect with and embody your own compassionate loving essence.

To reset your inner compass toward your highest purpose, and remind you of the vastness of your mission.

To learn the process of becoming a co-creator with the Divine so that you manifest from essence into form.
You will receive the inspiration to once again take the necessary risks you have been avoiding, as you tap into the higher intelligence of your Soul. You will find a new code for your life—a blueprint or mandala with a center that is synchronized with the evolutionary impulse our planet needs at this time.
This book offers essential wisdom for parents and teachers, counselors, healers, and mentors who want to encourage and support those they serve.
The energetic transmission of this book will help you resonate with the vibration of love in your deep heart. You will find yourself having greater courage and compassion, joy and gratitude, and this will begin to change the world you live in.
This book will soon be released on Amazon, so sign up here to be one of the first to receive notice, and to have access to the upcoming webinar:  "Why It Requires Big Courage To Walk the Spiritual Path, And How You Can Tap Into It." (time to be announced—you will be sent access!).
More than ever, now, we need to commit to the personal responsibility and leadership that is required to make this world a better place.  This book will show you how!
The Earth Wisdom School Newsletter: